My adoration for Kyary is getting the best of me. This probably will be pic heavy. Good blogger :D Ola will hate me for this >< If you don't like her then leave :P
Here is a bit about her:
Kyary's real name is Takemura Kiriko and is famous under the name of Kyary Pamyu Pamyu. She was born on the 23rd of January 1993 (so she is 18) and she has a blood type of B. She is 157cm tall. She was born in Tanashi, Tokyo and a graduate from a girls high school in march 2011.
She is a fashion model for Japanese magazines such as KERA and Zipper and had started since high school age.
She has her own radio programme: Kyary Pamyu Pamyu's way way radio. (Tokyo Broadcasting System on every Monday) since April 4th 2011. She also has her own web programme 'Kyary's way way channel since 29th January 2011. Both the links are below.
She likes Karaoke, comedians and moyashi (bean sprouts)
Kyary is set to release her autobiography about her rise to fame called 'Oh My God! Harajuku girl' I wish I could read Japanese…
When she was younger she was a model.
Here are some links:
I found her 50 questions on tumblr.
01. Favorite season: winter
02. Date: Disney Sea
03. Cell phone: iPhone
04. Charm Point: my round face
05. Favorite food: umeboshi
06. Sport: badminton
07. Favorite TV show: "Shirushiru Mishiru"
08. Blog: funny
09. Twitter: I tweet things I think about
10. Friends: fun
11. First love: kindergarten
12. Broken heart: second year of high school
13. Type of guy I like: Draco Malfoy (character in 'Harry Potter')
14. Favorite vehicle: boat
15: What I buy at the convenience store: umeboshi
16. Perfume: cotton candy
17. Things I collect: masks
18. A word that I'm happy to hear people say to me: (You're) funny
19. Magazine: "Koakuma ageha"
20. Texting: I do it every day
21. Favorite phrase: "Ne-!"
22. Favorite brand: Candy Stripper
23. Speciality at karaoke: "PONPONPON"
24. Hobby: the internet
25. Pictures: I take them with my iPhone
26. Ideal woman: my mom
27. People I dislike: gaudy people
28. If I were to win 300 million yen: I'd own a toy poodle
29. School: I've graduated
30. Someone I owe a lot to: Bon-chan
31: My dream when I was little: Sailor Moon
32. Favorite comedian: Robert (sp?)
33. Favorite drink: cola
34. Favorite movie: Beetlejuice
35. Bath: bubble bath
36. AKB48: Mayuyu
37. I'm happy when: I'm sleeping and eating
38. Rival: Naoto Inti Raymi
39. Luxury: eating zousui
40. Something I like about myself: I'm positive
41. Something I hate about myself: I'm positive
42. The person I want to meet the most right now: Carl Smokey Ishii
43. The thing I want most right now: a toy poodle
44. Things I do before I go to sleep: eat umeboshi
45. An artist who's influenced me: Gwen Stefani
46. Dream: a world tour
47. A year from now: I'll own a toy poodle
48. Ten years from now: I'm gonna be rich
49. "smart": I wanna be on the cover
50. A message to the readers: Please listen to "Moshimoshi Harajuku"!!
Here is what she is famous for – Kyary hengao!
I envy how she can do such ridiculous faces and still look adorable. Hengao is the very strange faces she makes.
Moshi Moshi Harajuku!
Kyary has an album. Here are the tracks :) They are very catchy and kind of… electro- ey? I don't know.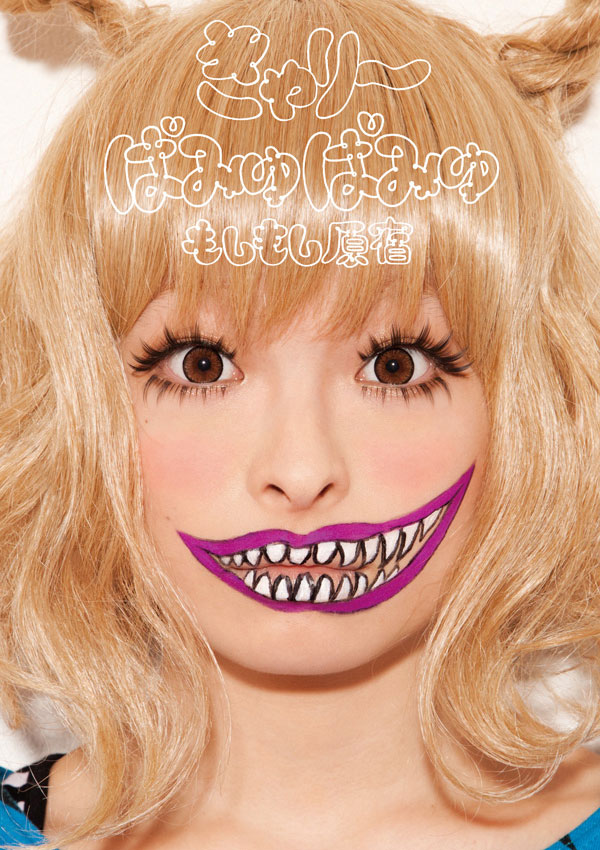 She is signed by Warner Music Japan and her first single PONPONPON was released 20th of July 2011 her album Moshi Moshi Harajuku was released on the 17th of August 2011. Her album is produced by Yasutaka Nakata.
She also made a CD album called 'Kyary Pamyu Pamyu's Ghibli set' which are remixed theme songs for famous Studio Ghilbi animations.
She is supposed to release a new single in January!
Eyelashes
Kyaru has released three different pairs of tsukema (fake eyelashes) with Eyemazing. There different designs are called
Harajuku Doll #501 – "Faerie Doll" style for "Dreamy drooping eyes" and "Recommended for your poppy, pastel outfits."

Harajuku Doll #502 – "Round Doll" style for "Natural, round eyes" and "Recommended for your cute, casual outfits."

Harajuku Doll #503 – "Kitten Doll" style for a Cat Eyes look and "Recommended for your cool, rock outfits."
Hope you enjoyed this huge spam >< Kyary wants to be the charisma of Harajuku. I believe she already is. She wants to make the world realise that Harajuku is a brilliant place.
May Kay ♥